WINTER CONTAINER PLANTING COURSE 2021
Winter is the longest of our seasons in the Calgary and southern Alberta area. It surprises most people that your outdoor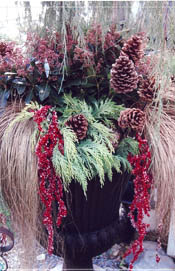 containers do not have to look drab all season long. Over the Christmas season, that each year gets longer and longer, we once used to stab large cut cedar boughs into our frozen containers. This job was often done in November and early December. The old soil in the containers is usually frozen, making this job difficult, and you soon discover the cedar boughs dry out, fall out of the container and disintegrate. This is due to our dry air and warm winter winds.
Here at Vale's Greenhouse we go the next step in gardening, planting evergreens and grasses in the containers in September. By planting early in the season, into fresh soil, the plants have time to root into the soil and thus stay green all winter long.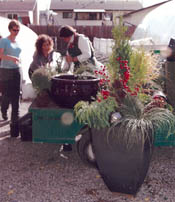 There are plenty of exciting plants to use that will enhance your winterscape. By adding faux berries, ribbon, silver balls and pine cones your planters will look stunning for 6 months. Amazingly, you have a planter that does not need water or fertilizer!
For the class, you will be required to bring several containers that you will enjoy all winter long. Hanging baskets do not work well in our climate. We recommend you bring window boxes or containers that are high-fired pottery or resin fibre (plastic) no smaller than 12 inches in diameter. We will help you pick out and choose the best combination style, while you sip warm drinks, and take in the wonderful fall scenery. Cost of the course is $5.00 plus any plant material and soil that you purchase. Take the next step in gardening. Register early by phone (403) 933-4814. Space is limited.
2021 Course Dates
| | |
| --- | --- |
| Sunday, October 3 | 1:00 p.m. - 4:00 p.m. |