Upcoming Events
Spring Container Planting Seminar
Due to Covid we will be offering private group container planting for 2023. If you have a group of friends and would like to all get together in the greenhouse and plant up your containers we would love to have you. We need a minimum of 15 with a max of 20 people with one person that can be the contact person between the group and Vale's Greenhouse. For more information please phone 403 933 4814. Dates available for booking are
April 21
1 pm - 4 pm
April 22

1 pm - 4 pm

April 23
1 pm - 4 pm
April 29

9 am - 12 pm
1 pm - 4 pm

April 30
1 pm - 4 pm
Opening Day
The 2023 season will begin on Monday, April 17. Our staff will be pleased to help you make your spring selections and make suggestions on any summer planting that you might need. Hours of business for the month of May are 9 a.m. to 8 p.m. Monday to Saturday, and 10 a.m. to 7 p.m. on Sundays.
Custom Container Planting Week
If you don't have time to take a course but still want the professional look, bring your containers and let our designer do the work for you. Carefully chosen plants will make your containers look stunning all summer long. Custom Planting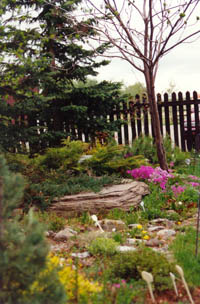 Week runs from Monday, May 8 to Friday, May 19th, 2023, 9.00 a.m. to 5 p.m. The fee is $5.00 per container plus the cost of soil and plant material. No reservations required.
Garden
Our garden is beautiful in the summer. Come out for a drive in the country and be surprised at what you will find. Not only will you be amazed by the perennial display gardens, the alpine garden and the pond area, but also how much top quality plant material we have for sale all summer long. If you just need fill an empty space, or you are creating a whole new garden, come for a drive and you will love what you find. The perennial garden is open every Saturday from 9 a.m. to 5.p.m.
Cultivation of Art - Art Show
Hours: 9:00 – 5:00 - June 16, 17 and 18, 2023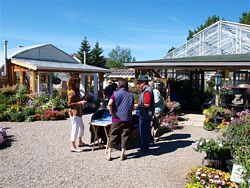 In the History of gardening in the 20th century the name most often cited is that of Gertrude Jekyll. Probably, we all know that she was one of the foremost gardeners of her time, but she was a skilled, trained artist, and channelled her love of colour into wonderful works of art. Miss Jekyll was not the first and will not be the last to arrive in the garden to let that garden tell its story onto the canvas. It is from this inspiration that Vale's Greenhouse proudly presents "Cultivation of Art".

Vale's Greenhouse has teamed up with 40 local Alberta Artists. Every artist is looking for a place to display his or her work; Vale's Greenhouse is always on the hunt for an interesting project.
Winter Container Planting Seminar 2023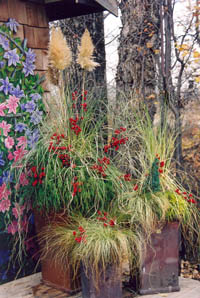 Containers do not have to look drab all winter. There are plenty of exciting plants that will enhance the winterscape. By using grass, evergreen and faux berries, your planter will look stunning for 6 months. Amazingly a winter planter that does not need water or fertilizer. Take the next step in gardening. Register early by phone 403-933-4814, as space is limited. Course date is Sunday, October 15 from 1 pm to 4 pm.


Christmas
Our gift shop is ready for the Christmas season by early August. Stop in and see what different things we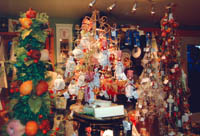 carry for the gardener in your family. A large selection of household items as well as outdoor items will please anybody on your list. Phone for gift shop hours 403-933-4814.