Katrina's Gift Shop Picks 2011
Elephant Tea Pots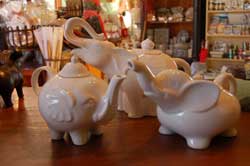 There is a general belief in many eastern cultures that an elephant with the trunk pointed up "stores" luck. Another belief is that the elephant should always face east to make your home lucky. Whether for luck or just for fun the elephant motif is a classic. Vale's Greenhouse sells three distinct styles. These cute, adorable little elephant's are perfect for a cozy tea party with favourite friends and loved ones. They also look great as a decorative item. A wide handle allows you to pour safely and the white porcelain is dishwasher safe and will last through the bumps of the busy kitchen.
A pure delight for the collector yet functional, too, this ceramic elephant teapot will bring a bit of the exotic home.

Porcelain Bowls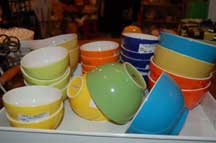 Whether for butter, cereal or dips, or a bowl just to put the small amount of leftover potatoes in, every kitchen needs several of these wonderful little bowls. "They are just so useful" Katrina just loves hers as they can move easily from the microwave to the dishwasher. "All my guests always comment on them. It is a bit of a joke that they come from my store". With several fashion colours and sizes to choose from they will suit any decor. Durable and lightweight they will take up very little room in the cupboard and you will wonder what you ever did without them. The happy colours will make any child want to eat their breakfast. They make great wedding shower and birthday gifts or just a little something for you.

Salt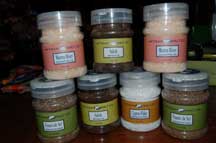 If you are a gourmet cook or you would just like to add a little dash of the exotic check out our interesting collection of salts. Although all types of salts are made up mainly of sodium chloride, fans of artisan salts swear by their distinctive texture and flavour. People are drawn to artisan salts, despite the higher price, by the fact that they are unrefined and therefore left in a more natural state than standard table salt. Vale's Greenhouse sells four very different types. Murray River; with it's flaky, pink coloured salt from Australia. Cyprus Flake, from Cyprus, with large crunchy crystals that have a fresh ocean taste. Fumee de sel, is a premium sea salt slowly smoked over chardonnay oak wine barrels, which give a savoury hint of wine, and Salish salt that is smoked naturally over Red Alderwood, giving food a smokehouse taste on or off the BBQ.
Tea Towels British Size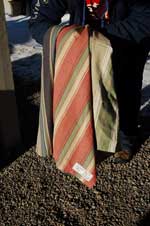 Tea towels run the gamut; from old-fashioned hand embroidered linen, to plain cotton with garish paintings of famous landmarks. As a general rule, while these tea towels are perfectly usable for their intended purpose, they are kept for ornamental rather than practical reasons. Travelers may bring back stacks of these tea towels for friends, or keep them as a reminder of their trip. Here at Vale's Greenhouse we sell the most practical of kinds, "the kind you use". These extra large cotton towels measure 24"x36" and are not meant for hanging on the wall but used for drying the dishes, cutlery, as well as the stem ware and even your grandmother's best bowl. They may not be the most stylish tea towels you have ever seen but in the kitchen they are a must for the super absorbent qualities and the no streak finish they leave behind. Here at Vale's we sell many styles of tea towels from the functional to the decorative, but of all the kinds, the oversized British Towel is the winner.