Katrina's Picks 2007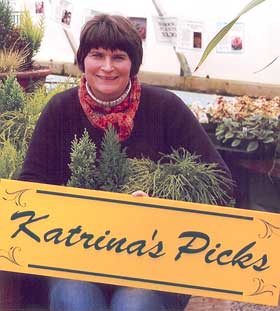 Dwarf Evergreens
This dwarf evergreen selection has made the Katrina Picks list because of their ability to span several seasons. These annual evergreens are happy in a container from early spring to Christmas. Try mixing them into your container with annual grass, that will hold its form when the traditional growing season comes to an end. You will be the talk of the neighbourhood, when your containers look great in December.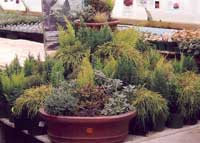 Gazania
These easy to grow plants come in the most brilliant coloured flowers that can be found in the garden. Rich in sheen and in many different colours, these plants are perfect for the hot sunny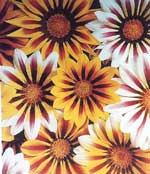 days that Alberta can offer. With great names such as Tiger Mix, Pink Shades, and Kiss Mahogany, these plants are versatile enough to be put into a container or the garden border.
Lavender
Stunning is the only word that best describes these plants.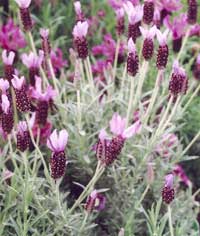 Perfect for the impatient gardener as they bloom all summer long. Large bushy plants of fragrant silver leaves highlight the beautiful flowers that look like small purple butterflies sitting on top of each flower. With so many different kinds to choose from you will be delighted to add lavender to your container.
Nemesia
A new introduction to the horticultural world, these part sun-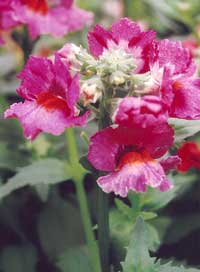 loving plants are perfect for the hanging basket or container. With names such as Cranberry, Pear, Banana, Raspberry and Mango, you will soon discover that there are plenty of colours to choose from. With growing style unique to each colour, some trailing and some upright, you will be delighted to see all the stunning new colours.
Coprosma
Another import from New Zealand that will work well here in containers and baskets.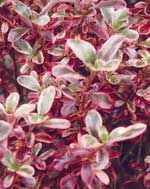 Striking leaves on many different varieties will give contrast and structure to any planting. Try mixing these tough plants with annual Euphorbia such as Tasmanian Tiger for a wonderful tropical look. As the season cools in the fall the leaf colour on these attractive little bushes will become more intense.
Lophospermum Great Cascade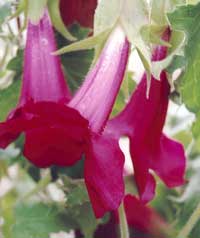 Not many people can pronounce this name, most people refer to it as "Wonderful". The velvet-red trumpet-shaped flowers of great cascade flow elegantly from hanging baskets. This marvellous vine blooms early, and continues throughout the summer. It can also be trained to climb for a dramatic addition to any garden.