Products
Bedding Plants
Do you think that bedding plants are boring? Then you need to look again. With so many types available for you to choose from you are bound to find what you are looking for. 100% of our bedding plants are grown on site, in cool greenhouse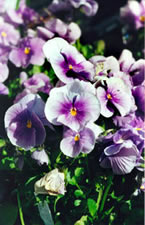 conditions, to make them extremely tough for the Alberta weather. All bedding plants are grown in a larger pack giving you more soil volume, resulting in more roots. Each pack contains six plants that are ready to pop right into your garden beds.
Perennials
With close to 2000 types of perennials you will be sure to find what you are looking for. From the old fashioned favourites to the newest varieties. All our perennials are grown on site. With each plant being lovingly cared for by our department staff, this will insure that your plant is top quality.
Basket stuffers
All the rage in the gardening world is about the container. We can find a plant that will suit anybody's style in container gardening. With close to 3000 varieties of annual basket material, the biggest decision to make will be which one to leave behind. We carry the full range of Proven Winners, Proven Selections, and Northern Innovations plant material. From Double Bacopa to the Sky Blue Petunia and every plant in between, our selection cannot be beaten. We also have many rare and interesting plants that work very well in our short growing season. Our basket stuffing plants are grown in a premium size container, giving you the biggest top quality plant to slip into your container.
Hanging Baskets
Each hanging basket is created by our staff and grown on site in our greenhouse to give outstanding growth performance during our short growing season. Unusual plant combinations give each basket a personal look. Our baskets can be easily slipped out of the container and placed into your own larger pots at home.
Planted Containers
Our ready-made containers are the perfect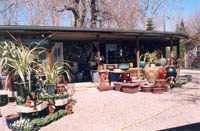 solution for the new home or a quick spruce-up for your deck. They are planted in quality high-fired containers with stunning designs that will last all summer.
Shrubs
Hardy shrubs are the backbone of every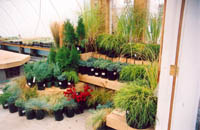 garden. Fragrant hardy roses that bloom all summer, to rambling vines, you are sure to find the shrub that will suit any location. We give a two-year guarantee on all shrub material.
Vegetables and Herbs
Grow your own vegetables easily with started plants. Broccoli, peppers, cabbage, onions and many different vegetables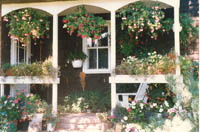 are ready to be planted in May. Tomatoes also come in many different sizes and colours. Our large herb collection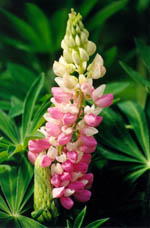 will please even the gourmet cooks. Take the time to peruse our garden seed selection available early in the spring.
Containers and Garden Items
Our collection of hi-fired pottery containers is one of the best you will find. comes in many shapes any styles. Our collection of pots is one of the best you will find. This durable pottery can stay outdoors all year round, and will never go out of fashion. We also have a full range of cast iron containers, wrought iron wall baskets and window boxes. A large selection of garden art including top quality wall plaques, gargoyles and garden obelisks will compliment any garden style.
Gift Shop
Our gift shop is always full, and ready for the season. From kitchen items to bath and home decor, we are sure you will be able to find something unique. Open 12 months of the year, your Christmas shopping will never be easier. Phone for seasonal hours 403-933-4814.