Katrina's Picks 2020
Salvia Skyscraper Dark Purple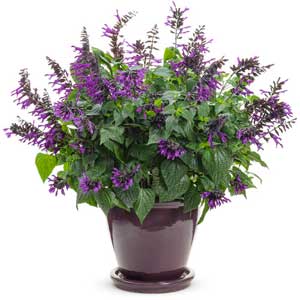 Salvia is a complex family, so Salvia hybrids tend to have complicated back stories. However, if we had to guess, we'd say the Skyscraper series blends the vibrant colours, season-long bloom, and the showy blooms of 'Black & Blue' into a single package. It took us a while to puzzle out the Skyscraper series because we couldn't fit it into one of the usual Salvia slots. It has the colors and blooms of annual Salvia, the handsome habits of perennial Salvia, and the showmanship of decor Salvia. In the end, we put Skyscraper smack dab in the middle of all three. Tall stately tough stems support very large tubular rich purple flowers, sweet with nectar, so it is extremely good at attracting long-tongued pollinators like hummingbirds and butterflies. Bees have short tongues, so they look elsewhere. They also retain the general Salvia toughness when it comes to water schedules and soil conditions. Skyscrapers tolerate dry spells pretty well. They can take a wilt and bounce back after water is provided. Growing to a height of about 36 inches, they can be put in a hot sunny container or planted in the ground and they will provide a mass of flower colour. We think the Dark Purple Skyscraper is the most outstanding colour for its richness; however the orange, red and pink should not be missed.
Cytisus scoparius "Sister Rosie"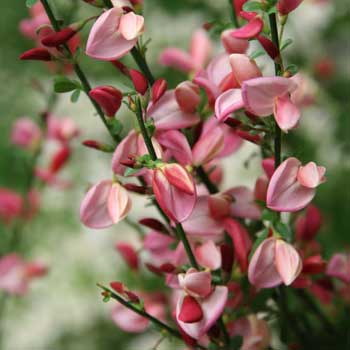 Sister Rosie,Scotch broom has hundreds of pea-shaped flowers in dusky pink with red and yellow lips. Nothing else looks quite like it. After blooming, wiry green stems are covered in tiny leaves which provide a unique textural effect giving the plant a memorable presence all season long. A wonderful "filler" for any size of container, this Cytisus, much like its sisters of other colours, makes the perfect addition to the very hot container as it thrives under the summer sun. Even though this plant is not hardy in Southern Alberta we recommend you leave it in your container all winter for a marvelous winter effect. Even with the flowers only lasting a few short weeks we highly recommend this pant as it will be the envy of all your gardening friends for the fullness and attractive nature of this truly unusual container plant.
Fuchsia procumbens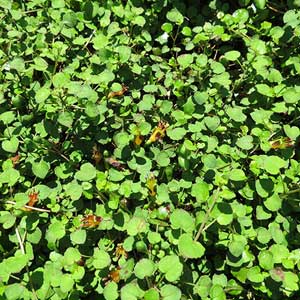 Yes that is right another New Zealand Native plant. So remarkably un-Fuchsia like, this uncommon New Zealand creeper bears tiny rainbow coloured upward facing blooms that pop up between densely matting emerald heart shaped leaves. Surprisingly, showy grape-sized seedpods appear that are editable and very sweet. Gazing upon its tiny, delicate foliage and odd little flowers, you might be forgiven for not recognizing it as a fuchsia. Wiry stems that cascade out of the shady container will eventually trail over 3 feet. The foliage is motivation enough to choose this as a shade basket spiller, then appears the tiny one-of-a-kind flowers. This remarkable plant comes from a long line of South Pacific plants that diverged from all other Fuchsias around 30 million years ago. It is now a rare species in the wild because of the destruction of its natural habitat, it's now listed as endangered. We take great pride in our part to introduce and educate the customer to lovely different plants and this Fuchsia is truly a lovely addition to the Vale's Greenhouse lineup.
Marigold Strawberry Blonde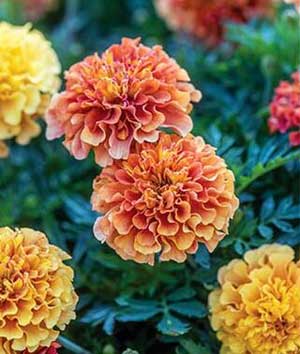 The lonely marigold, much maligned and relegated to the "kid's garden", gardeners are always quick to point out the "common" in describing why they don't plant them. But Strawberry Blonde is not your mother's marigold plants. Nowadays, much like we move from one upgrade in technology to the next, the plant world is much the same. This breakthrough in French marigolds commands attention with a floral rush of bicolour pastel pink, rose and yellow blooms. Vigorous, bushy, plants introduces never-before-seen cool shades to the marigold color palette. The flowers actually change colour. On warmer day, blooms are yellow-pinks. When cooler, weather pink-plum tones kick in. Mounded, indestructible 8-10" plants infuse the sun-splashed border or container with a long season of colorful cool warmth. Strawberry Blonde Marigolds will pop into a sunny container or plant them in the front of the garden to create a beautiful border.
Hebe Pinocchio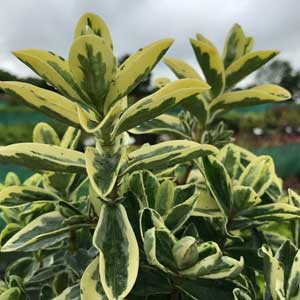 Stop, what is that? Well maybe only Katrina would say that. But that is why we are now growing another Hebe variety. We just love the native bush plants of New Zealand, they are tough, drought tolerant and bloom for months and this Hebe is no different. 'Pinocchio' has a compact and a rounded growth habit with upright stems bearing four, ovate to elliptic, grey-green leaves with wide, irregular, cream to white margins. Purple spikes of flowers bloom all summer and into early autumn. So what makes this variegated Hebe so special? Because it is a beauty! Try it in your planters on its own or mix them into a planting with other plants for that full effect of texture. Hebe's in general need a full sun exposure and require a small amount of dead heading and fertilizing to keep them blooming all summer long. These are low maintenance plants that have a big impact.
Digiplexis Berry Canary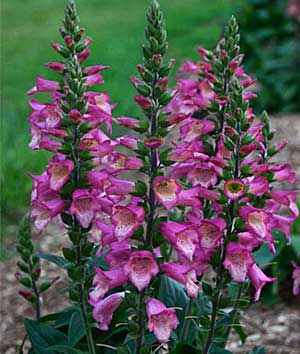 This outstanding hybrid is the result of breeding between Digitalis (Foxglove) and a Digitalis relative from the Canary Islands, Isoplexis. Masses of beautiful, hot pink, tubular flowers have creamy-yellow throats with burgundy speckling that are borne all the way around the stems. These very large flower spikes appear over a long period on tall stems. Attractive to hummingbirds, butterflies and bees, these are definitely worth growing as an annual. Reaching heights of 90 cm tall, it will flower longer than each of its parents would, and is happy in any sunny or lightly shaded spot which doesn't parch during summer. With regular summer watering and dead heading, they are tough and in our experience problem free. Last year in our own garden containers they were in flower from late spring until mid-autumn