Katrina's Picks 2022
Hebe James Stirling:
Hebe ochracea 'James Stirling'
Sometimes you just must go small. A unique evergreen perfect for the sunny container where you want to tuck in something small and neat to achieve a look. May I introduce you to Hebe ochracea "James Stirling" This Hebe is a compact gem with very usual foliage, very few plants showcase the startling and gorgeous ocher colour that this New Zealand evergreen shrub commands. This is one of those annuals that when you show your friends, they are amazed by the colour of the leaves and the beautiful white tubular flowers at the ends of the branches from late spring to early summer. This very pretty annual grows well in a sunny container and can be brought inside for the winter months to live happily on the windowsill.
Senecio cephalophorus "Orange Flame"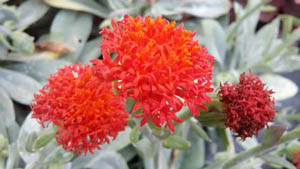 When this plant first arrived from a supplier with no tag it was a complete mystery, I scoured the books and internet searching for it and imagine my surprise when it turned out to be a Senecio. Thick rubbery leaves of blue will grow and 12 inches tall and will be a perfect house plant in the winter season but in the summer brilliant orange pom-pom flowers arrive to put on quite a show. This plant is not hard to grow, it loves the sun and needs a bit of water occasionally and likes to be planted into a sunny mixed planter or is happy to be planted on its own. Another multi-season plant that will impress your friends.
Tagetes lemmonii
Covered with golden daisy-like flowers,its deeply divided aromatic leaves fill the air with a pleasant pungent odor. Deer and rabbits hate it, but bees and other pollinators love it.
John and Sara Lemmon, husband and wife and well-known field botanists in the 19th century, discovered this species of Tagetes growing in Arizona at elevations from 5000 to 8000 feet, while camping there on their honeymoon in 1880. They sent a cutting to Asa Gray, the renowned botanist at Harvard, to identify. He named it after them. They were passionate about discovering plants as they travelled in the western states and brought this species of marigold back to their garden in Oakland. From there it was eventually introduced to the nursery trade. Other common names used for Tagetes lemmonii are Copper Canyon Marigold, Mountain Marigold and Mexican Marigold. When Cortez conquered the Aztec nation in 1552, the Spaniards plundered the magnificent gardens of Montezuma, and took many strange new plants back to Spain to establish in their monastery gardens. Hundreds of hybrids of Tagetes were developed and spread worldwide over the centuries. France claims its French Marigolds and South Africa, its African Marigolds, but the true origin of marigolds is Mexico.
Petunia "Bees Knees"
The talk in the horticultural community has been about the race to create a petunia that outperforms any of their predecessors. Over the last 10 years we have had every colour and growth habit introduced to the gardening world. Some are amazing and some just went into the compost after a year of trying it. So now we have another petunia and this one is turning out to be everything the gardener wants in a petunia. Bee's Knees is filled with lush blooms and puts on a high impact show all season long with very little attention. It brings the most intense yellow petunia to the market, along with the best performance! This variety holds its colour better than any other yellow petunia. It features dark green foliage and outstanding branching habit. Will mix well into the hanging basket or container.
Mangave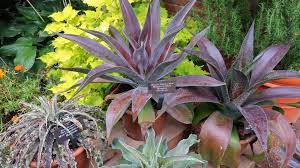 Mangave plants are a newer native hybrid. These stunning plants are a cross pollination between the genus Manfreda and Agave. Horticulturists collected seeds from the beautiful Manfreda specimen, and two of these seeds grew to five times the normal size, with different shaped leaves and blooms that were different than those typically found on the Manfreda plant. Eventually, the seed collectors realized there was a valley next to the collection area where Agave celsii grows, hence the beginning of the Mangave. The Manfreda provides the Mangave with two of it's outstanding qualities. A better growth rate and the dramatic foliage patterns, and from the Agave plant, the Mangave acquired two qualities, the growth habit as well as the Agave's refined appearance. Perfect for the sunny container and can early be brought indoor for the winter months.
Alyssum "Snow Crystals"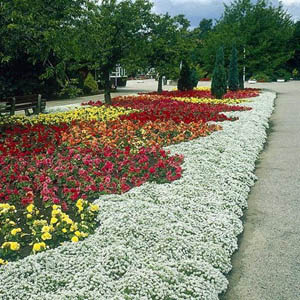 Strictly speaking this plant should now be called Lobularia maritimumas because few years ago it had a name change. But what-ever name you use it is still the old fashioned plant that we all love. Alyssum is an easy-to-grow annual that is both decorative and useful. It plays a key role in companion planting and can be used as a cover crop to attract insects, smother weeds, and increase fruit set in vegetable beds. 'Snow Crystals' was the first tetraploid sweet alyssum and has lots of vigor. It is known for its greater heat and wind tolerance, larger flower size, and longer staying power. White blooms cover 8-10 inch mounds and plants flower all season from June to frost, and dead heading is a simple clip with scissors. You can plant in it rows along the edge of the border or have it dripping out of containers