The Horseshoe Bed

Designed in the 1970's by Anne Vale, this garden is thought to reflect a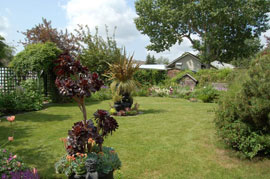 herbaceous border design that you might find in most English gardens. Over many years this garden has changed with different plantings and colour variations. Obviously, the success of any planting scheme relies on a mixture of heights and plant forms. As the summer season progresses the garden matures, bringing a sense of the unexpected and many surprises. Nothing amazes and delights Katrina more than to watch the garden grow all season long. "The best plantings most often happen by accident" when tiny seedlings germinate and produce unexpected results.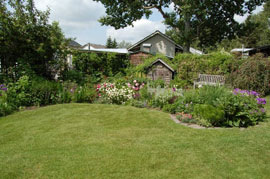 Perennial plants bloom according to the their height, shorter plants tend to bloom early in the spring and taller perennials bloom later in the summer, called Succession of Bloom. June is the month that this garden becomes a tapestry. There is no earthly way to have an ordinary perennial bed that is in full bloom from the spring until the fall. It is a reasonable goal to expect some flowers to be coming on as others fade, and to have plenty of foliage to tide things over. Katrina planted the Horseshoe Bed to be at its best from late June to early July, thus there comes a moment when the whole garden seems to celebrate the arrival of summer. Poppies pop, irises ripple, daises sway, and hardy geraniums begin to bloom. Large double peonies fill the air with scent and, predictably, end up lying on the lawn after a storm. Katrina likes the single peonies, which come with a higher price tag, but they do not topple over in the "Peony Rain"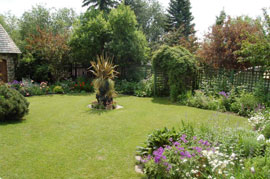 Every Saturday this garden is open to the general public to wander through, but it can be viewed from the sales area everyday. If you have never seen this garden in late June it is worth the drive. Katrina thinks that this garden best demonstrates that strategic placement of flowers can create an awe-inspiring picture.