Katrina's Picks 2017
Petunia Easy Wave White and Petunia Easy Wave Red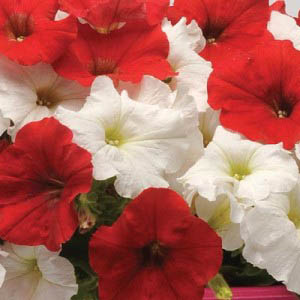 Easy Wave petunias (Petunia x hybrida) are a strain of petunias that spread and trail while staying low. These vigorous plants were developed by a Japanese company and brought into commerce in 1995. Easy Wave petunias reach up to 39 inches wide and 6 to 12 inches tall and have larger flowers than other Wave type petunias, reaching up to 3 inches across. Plants produce a more mounded shape than the original Wave petunias. Easy wave Petunias are not happy planted into the ground but would prefer to spill out over the edge of the window box or the hanging basket. The blooms appear in early summer en masse and continue blooming even in cool-summer conditions! These tough plants love to be planted in a full sun location, they do need dead heading to promote more blooms and would love to be fertilized once a week with 20-20-20
Dusty Miller; Senecio cineraria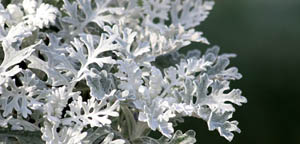 Dusty miller is a favourite because it looks good with everything. The silvery-white colour is a great foil for any type of garden blossom and the fine-textured foliage creates a beautiful contrast against other plants' green foliage. Dusty miller has also earned its place in the garden because it is delightfully easy to grow, withstanding heat and drought like a champion. All varieties of dusty miller are simple-care and undemanding plants, they love to be planted in the garden border or thrive in a window box or hanging basket. They grow best in areas that receive full sun exposure and hold their colour better in such sites, but they grow in partial shade as well. Once established, they have low water requirements. The plants are frost-tolerant and cold-tolerant, often holding on when other annuals and perennials have succumbed to cold weather. With few insect and disease problems, they have the added benefit of not being attractive to deer or other wildlife.
English Daisy Habanera White with Red Tips; Bellis perennis Habanera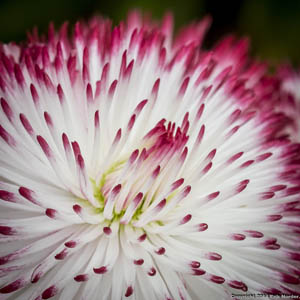 Bellis is Latin for "pretty". This charming, small, garden plant is indeed very beautiful. Large flower heads, 3 inches across, are heavy-flowering and offer big semi-double loose flowers that have distinctly quilled petals that are white with red tips. The flowers appear on top of short leafless stems with bright green fleshy rounded leaves. English daisies grow and flowers best in part sun, they love morning sunshine and afternoon shade. They require very little work planted in the garden bed and will bloom all summer and well into the fall surviving many hard frosts. Don't be surprised if this hardy little plant appears from under the snow after winter and blooms again in the spring. Wild English daisies originate from the European grasslands and forest margins as far east as Turkey but are most commonly associated with England where they are favoured. All grow best where summers are cool and temperate. To create more blooms remove spent flowerheads. Its cheerful colour and small size also makes it suitable for containers.
Tango White Zonal Geranium; Pelargonium x hortorum zonale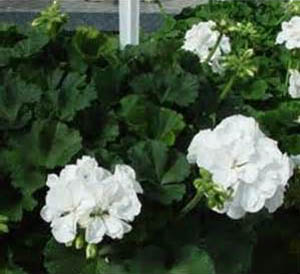 When we first started growing Geraniums in 1976 we grew only Zonal Geraniums. Although we have branched out and now grow many different types of Geraniums we think that the Tango Zonal Geraniums are still one of the prettiest. A classic choice for summer annual containers and window boxes, bright white large double flowers, sit above the scalloped shaped leaves. The word " Zonal" refers to the dark colour near the edge of each leaf giving a two- toned effect to the plant. The key to growing a beautiful full geranium is to keep it on the dry side. Water only when the soil is completely dry. Geraniums love to be planted in a full hot sun location; it is best to water in the morning and water the soil at the base of the plant. Try not to get leaves of the geranium plant wet. Fertilize weekly with 20-20-20, deadhead each bloom by removing the flower stem down to the hairy main stem leaving a clean and tidy looking plant. White flowers are the show stopper of any garden, beautiful in the moonlight, large, full and rich looking in the full sun, white flowers generally are underused in the landscape. Geraniums can be mixed with other geranium colours or added to the mixed container; these plants may be an old fashioned favourite but can be added to interesting and exciting combinations plant to give them a modern twist.
Maple Leaf Geranium; Pelargonium x hortorum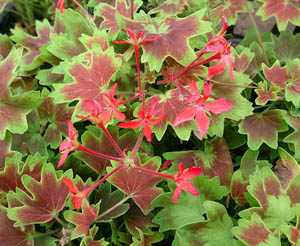 Join the nation and celebrate Canada's 150 Birthday. Geraniums aren't just about big blooms; Exotic Leaf Geraniums enhance the garden with stunning foliage not found on regular geraniums. The Maple Leaf Geranium has five points, like a maple leaf and has a brick red centre with a gold edge. Single reddish orange blooms on very mounded bushy plants that prefer to grow in baskets and containers in a hot sunny location. All geraniums like to not be too wet and will enjoy being on the dry side. These compact short plants are wind resistant, as they top out at about 12 inches, easily dead headed to promote longer flowering and make an easy house plant for the winter months in a sunny window.