The Statue Garden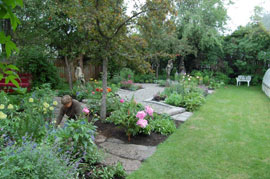 Historically, perennial borders where large, wide and deep and, as a result, they where spectacular. They still can be, if maintained, but most of these beds are tricky to tend and with each passing season become more and more unruly, unless you wade bodily into theses borders, forgetting first the twine then the trowel, playing hopscotch over this treasure, only to step on another, and then to discover what you really need is a garden stake.

"I'd had enough of that garden" said Katrina. "The garden was good when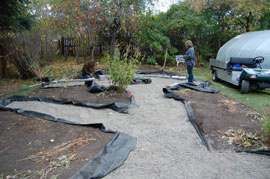 somebody could attend to it all the time but this place is too busy and over time the garden was lost from thought." A good friend looked at it and said" Katrina it has the bones". And so I looked at it with clearer eyes and said, " It all has to go!" Blessed with a warm long fall in 2008 the project began. "I just drove the bobcat in, ignored staff's pleads to save things, and started digging."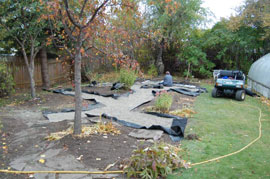 Once all the plants, shrubs and weeds where tossed out the real work began. Paths and beds where drawn out on the ground using spray paint, string and stones. Slowly the new garden took shape. Visions of what had been there spurred Katrina on in the blind faith that it could only be better.

By contrast this garden is much more manageable. Smaller gardens can be tended from the path, or a step or two into the bed. Great thought was put into the colour scheme for each of the smaller gardens creating the same impact as big borders but without the strain.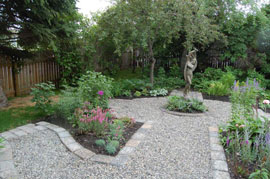 The three statues are David the Hunter, Diana the Huntress and Aurora, who stands in the centre of the garden surrounded by perennial favourites, Nepeta and Pulmonaria. The statues make the garden just a little different from any of the other garden spaces. Through the use of repeating plants all the flowerbeds in the garden are tied together beautifully. The unified effect is pleasing and restful, and is best viewed in the months of June and July.

Few gardeners start out the day with the thought of "I am going to uproot and rearrange this whole garden today." Spur of the moment decisions do not come out of the blue. They come from experiments and observation, and by that compelling longing that seems to drive all gardeners. This garden turned out just right.