Katrina's Picks 2021
Dahlia "Mystic Fantasy"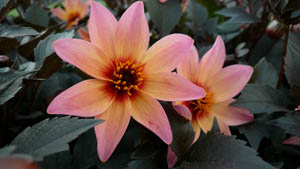 Accomplished New Zealand breeder Dr. Keith Hammett has spent years working on a distinctive new Dahlia series of fashionable, more contemporary kind of plants perfect for today's gardens. These beauties are set apart from other Dahlia varieties by their delicate deep mahogany to black foliage topped with masses flowers, they have strong sturdy stems and do not require staking. Mystic Fantasy Dahlia has a distinctive blend of flamingo pink and soft yellow with a yellow halo and raspberry center. The Mystic Dahlia series are low maintenance and are ideal for containers, borders and garden beds. These spectacular flowers attract bees and butterflies and make exceptional cut flowers. Deadhead spent flowers to extend blooming time.
Marigold "Flamenco"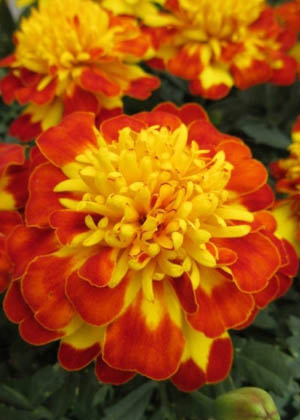 If the one thing that Covid-19 has done, is the introduction of the gardener to flowers that they used to have. Once relegated to the child's garden or to the garden of the past, marigolds have now seen a resurgence in garden use. Marigold Flamenco is a small bushy annual with a novelty yellow centre and red-tipped petals that will look great planted in patio containers and gardens alike and will flower continuously all summer. Near as you can get to an instant flower, this easy to grow annual will quickly cheer up an otherwise bare patch. The pollinators will thank you for providing them a sweet treat, and your neighbours will be envious with your great planting ideas. What was old is new again.
Verbena bonariensis "Lollipop"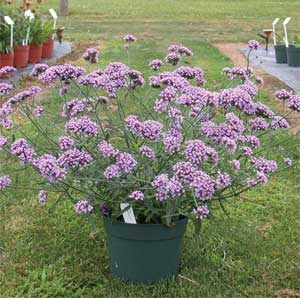 Fill your garden all season long with airy lavender-to-violet blooms and invite in pollinators at the same time! A compact form of the ever-popular Verbena bonariensis, 'Lollipop' produces the same open sprays of lavender flowers as its parent, but on a much lower growing plant. This makes it ideal for patio pots, where it will mix well into the sunny container. This versatile Verbena also makes fine cut-flowers in both fresh and dried arrangements. From early summer to fall, 'Lollipop' offers a lovely canopy of fragrant flowers which grow about 24 inches tall. This sun-lover requires little maintenance, making it one of the easiest container plants you will ever grow.
Didelta "Silver Strand"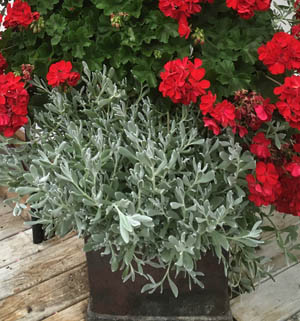 Everything you read about this plant starts with" Bulletproof". So after a season of growing it myself I will concur that it may not stop a bullet but it is in fact pretty indestructible. "Silver Strand" is a spreading,trailing semi-succulent that performs all summer long. The semi-trailing habit makes this an ideal component plant in hanging baskets and container gardens for a splash of velvety, silver color. 3 inch (10cm) long fuzzy grey leaves start off as a mound and then "whoosh!" they trail down over the pot putting on an amazing show. Loves the heat and can tolerate the dry but needs to be fertilized on a regular basis to get maximum growth. No flowers will appear in one season making this the perfect plant for the lazy gardener with no dead heading required. Mix in a container of other silver leaf items like Senecio Angel Wings and Dusty Miller for a stunning effect.
Bulbine frutescens 'Hallmark'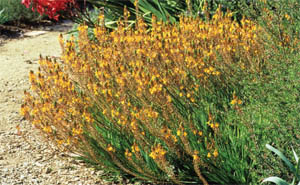 Not often does a new plant come along that makes the "Picks List" right off in its maiden year. First seen at a grower in California we could not wait until we could get our hands on this plant. Bulbine frutescens 'Hallmark' (Orange Stalked Bulbine) is a succulent from the southern coast of South Africa north to Mozambique. Bulbine comes from the Greek word 'bolbine' and Latin 'bulbus', a general word for a bulbous or onion-like plant but this is somewhat misleading as these plants do not have a bulbous base, it has narrow fleshy bright green 10 inch long leaves and is sometimes commonly called Jelly Burn Plant as it contain glycoproteins, similar to many aloe species, and is touted for similar healing properties as Aloe Vera such as to ease burns, rashes and itches. Orange flowers are 6-petaled and star-like with frilly yellow stamens that form long flower stalks that rise above the foliage in the spring through the whole summer. "Amazing" is what we all said when we saw how this plant preformed even in the smallest sunny container. Loves the heat and is not fussy about what else you jam into the container with it because this plant has the confidence to know it is the star of the pot.
Snapdragon Liberty Classic Bronze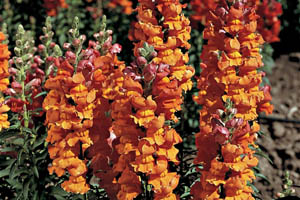 This could well become your favourite Snapdragon. Beautiful spikes of lightly scented orange flowers with coppery-bronze overtones rising about 18 inches above the foliage from mid spring to late fall, which emerge from distinctive pink flower buds, and which are most effective when planted in groupings or in mass in the ground. The flowers are excellent for cutting and will last many days in a vase, its small pointy leaves remain green in colour throughout the season. Here at Vale's Greenhouse, we lightly pinch our young plants making them bushy and with many growing shoots. Snapdragons in general love to grow in full sun but will tolerate a part sun location but the blooms may be delayed. Often it is asked "can the very hardy Snapdragon live through an Alberta winter?" The answer is no but they will take a September -10 and keep on going, so don't pull these lovely plants out of the garden too soon in the fall. Did you know that "Snapdragon" is also a Christmas game of plucking raisins out of a dish of burning brandy? Sounds fun!