Wind Harp Garden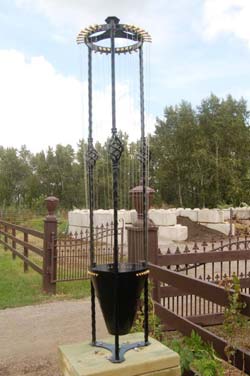 A summer just would not be the same if Katrina did not have a project in mind. Thus the summer of 2010 will be know as the Wind Harp Garden. Ah yes but where to place this garden? So a beautiful open area was created to best show off this wind harp. On the east side of the parking area leading out to a beautiful field, we placed a new garden. This specially designed insulated wooden planter was placed on a deeply dug area and filled with screened loam. After much discussion on what to grow in this garden it was finally decided on a shrub garden. Shrubs are much less maintence and require much less water after they are established. Plus we have many deer that tend to nibble on plants all winter and summer. Shrubs might be able to withstand that. The garden is filled with Hardy Shrub Roses, Potentilla, Spirea and Cherry Princepia,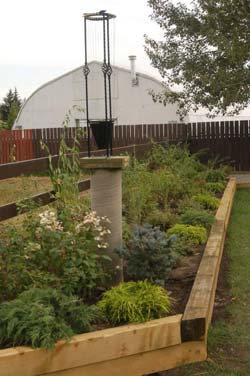 all very tough and weather tolerant. Over a period of time we hope that the shrubs will fill out and make a spectacular show of colour and texture through the entire year.
An Aeolian harp was placed in this garden area and lifted above the fence letting the wind blow through the strings, allowing the harp to be played. It is named for Aeolus, the ancient Greek God Of The Wind, and is one of the oldest known musical instruments. The first Aeolian Harps were made by the ancient Greeks, and according to legend, King David hung his in an open window to hear it being played by the wind. They gained popularity later during the 17th and 18th centuries in England and Germany where they were placed in castle window openings and caves. In 1785 Italian scientists attempted to use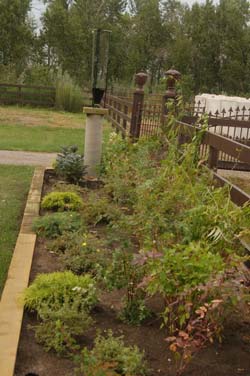 the wind harp for the scientific purpose of weather prediction.
This beautiful harp is played by nature only, unlike wind chimes that can be played with a human touch. This instrument will make a harmonic sound as the wind moves through the strings and causes them to vibrate and harmonically work on each other producing a unique tone. This unique harp produces a sound different from that of a wind chime, often referred to as enchanting, ethereal and almost haunting. The best time of day to hear these yard harps is after dark when the background noises are at a minimum. They work best in a gentle 8-12 mph /15 kmp breeze.