Perennial Plant of the Year 2019
Stachys officinalis "Hummelo" Wood Betony

Synonyms:
Stachys macrantha "Hummelo"
Stachys monieri "Hummelo"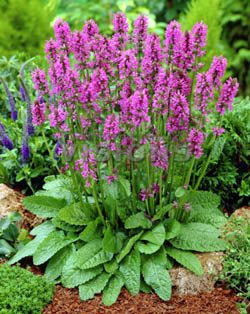 Every year the Perennial Plant Association sends each member a ballot to select a Perennial Plant of The Year. These plants tend not to be new introductions to the garden world, but plants that have been tested and thus proven worthy for nomination. They need to be suitable for a wide range of climatic zones. The plant chosen must be low maintenance, relatively pest free, and disease resistant. It must have multiple seasons of ornamental interest and be readily available for the year of promotion. After the selection the plant is promoted all across Canada and continental U.S.A.
"And who is the Perennial Plant Association," you might ask? Mostly, it is a large group of greenhouse growers, retailers, landscapers, horticultural teachers, and "plant geeks" that work in our huge industry. The membership is large, and people join from all around the world and meet once a year at an annual convention. Here, we listen to speakers, tour greenhouses and nurseries, have a trade show, and in general, find out what the others in the industry are up to.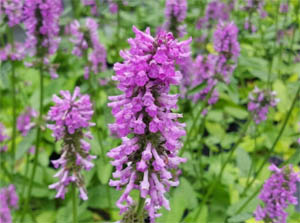 It began in 1990, when the first Plant of the Year was Phlox stolonifera. Next was Heuchera micrantha "Palace Purple" and from that time on each year another perennial was picked and promoted. Allium "Mullenium" was chosen for the 2017 season.
Most of the time the plants selected by the Perennial Plant Association are very hardy. With the exception of a very few plants that are not hardy at all, Vale's Greenhouse has always been very pleased with the choices for Perennial Plant of the Year, for the 2019 gardening season Stachys officinalis "Hummelo" has beenchosen.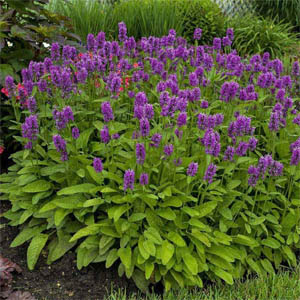 A wonderful hardy perennial featuring reddish purple, bottle brush shaped flowers that sit on square stems, which form a neat mound. A cousin to the familiar Lamb's-ear but not at all similar, Stachys Hummelo is a tidy plant that needs little if any pruning to keep it that way. Aside from the pretty flowers and crispy green foliage, this plant is drought tolerant, deer and rabbit resistant and thrives in full sun to part sun locations. Bees, butterflies and any other pollinators are attracted to the abundant nectar provided by the tiny orchid-like flowers that comprise the flower spikes. This plant looks amazing planted as an edging plant towards the front of the border. Growing only about 18 inches high, with the blooms first appearing in mid June, this hardy perennial looks terrific planted in groups of three for visual impact. Flower arrangers love it for its tough stems and long lasting freshness after the flower has been cut.
Long used in medicine, a physician to Emperor August Caesar wrote a book about Stachys officianlis, another herbalist stated that it is one of the herbs that ought to be kept by every family. One of the most interesting uses is fabled to be, that a decoction of this plant with wine gargled in the mouth eases toothaches. But perhaps that is just the wine factor?