Perennial Plant of the Year 2016
Anemone Hybrida - "Honorine Jobert"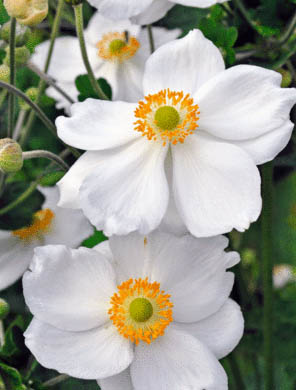 Every year the Perennial Plant Association sends each member a ballot to select a Perennial Plant of The Year. These plants tend not to be new introductions to the garden world, but plants that have been tested and thus proven worthy for nomination. They need to be suitable for a wide range of climatic zones. The plant chosen must be low maintenance, relatively pest free, and disease resistant. It must have multiple seasons of ornamental interest and be readily available for the year of promotion. After the selection the plant is promoted all across Canada and continental U.S.A.

"And who is the Perennial Plant Association," you might ask? Mostly, it is a large group of greenhouse growers, retailers, landscapers, horticultural teachers, and "plant geeks" that work in our huge industry. The membership is large, and people join from all around the world and meet once a year at an annual convention. Here, we listen to speakers, tour greenhouses and nurseries, have a trade show, and in general, find out what the others in the industry are up to.

It began in 1990, when the first Plant of the Year was Phlox stolonifera. Next was Heuchera micrantha "Palace Purple" and from that time on each year another perennial was picked and promoted. Biokovo Cranesbill Geranium was chosen for the 2015 season.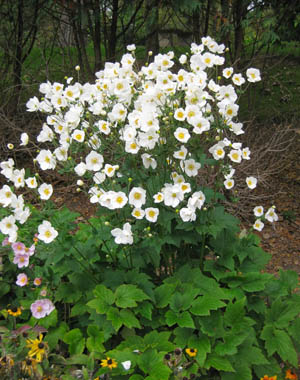 Most of the time the plants selected by the Perennial Plant Ass. are very hardy. With the exception of a very few plants that are not hardy at all, Vale's Greenhouse has been very pleased with the choices for Perennial Plant Of The Year. However, this plant falls neither into either realm of "zone 2 hardy plant or not hardy plant." We have found over the years that Anemones of this type last for a few years in the garden then for no explanation are just gone. This gives the impression that these plants probably are shorter lived in the garden under ideal growing circumstances, let alone in Southern Alberta.

Anemone is from the Greek word meaning windflower, and is part of a hybrid category which includes a large number of hybrid pink or white flowered cultivators that bloom from late summer until the first killing frost. Anemone Honorine Jobert is a Japanese anemone hybrid cultivar that spreads by creeping rhizomes. Single 2-3"/ 5-8 cm overlapping petaloid sepals of pure white with a yellow centre, appear on erect sturdy stems which stand approximately 34"/85cm. Oval toothed, dark green leaves, form attractive clumps in the perennial boarder, or can be used in pots and containers as an annual for that late season flower. Honorine Jobert is an old garden hybrid discovered in Verdun, France in 1858, synonymous with Anemone X hybrida "Alba".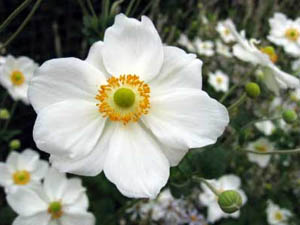 Plants grow best in part shade, a East or North East exposure in the Calgary area This Anemone will appreciate a winter mulch of some leaves placed on top of the plant and does not like to be planted in a area that gets to wet, so avoid areas close to a down pipe from the roof. Plants may be slow to establish, but, once established, will naturalize in the garden creating large clumps. Propagate by root cuttings in early spring or late fall by using a sharp shovel or a garden knife.